The videos below shows an interview with an extraterrestrial in captivity. One of the few real images of aliens on the internet, because the majority of what can be found on the internet is fake. I can perceive the alien's inner world because I have psychic abilities.
This is what he looks like: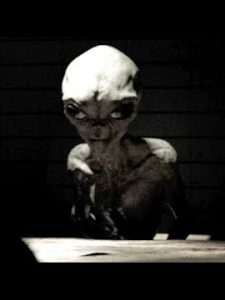 The alien is very afraid and distressed about his situation. He has been living imprisoned with the humans for a while (a few months maybe). He hasn't been treated well. He has been interrogated and he was unwilling to provide information. He has lied a lot. He has told many contradictions in order to deceive.
He is not a good being. Keywords to describe him are: lying, cheating, deceiving, using others for his own benefit. Others are objects he can use, they are preys. He is a cold-hearted being. Het is merciless. Other species besides his own only exist to be used by them, to be used as slaves and to be eaten. Including humans.
He tells in the interview that he comes from earth and from the future. He is not from the future, that is a lie. But indeed, he sort of comes from earth. He comes from a place that is either a part of earth, a part that we humans don't know of and that is hidden from us. Or he comes from an invisible planet (in another frequency) that is immediately adjacent to earth, and which can't be perceived by humans (see further on).
He came to earth in a flying craft. He came from very close by, not from thousands of light years away, as he tells in the video. There were several of them in the craft, three or four. They came to earth through a portal.  Their craft had a breakdown and they crashed down just as they came out of the portal. When they enter our world, they become visible to us.
They came to earth to capture humans and animals for food. The prisoners are imprisoned in their aircraft and once they get back to where they live, the prisoners are killed and prepared to be eaten. The only reason they come to earth, is to capture humans and animals, there is never another reason. Even though they exist in another frequency in their world, apparently, they can eat humans. They can switch between frequencies, they can be visible to the captured humans in their world, and they can become invisible.
Where he's from
He either (1) comes from an area that is part of our planet and that humans don't know of (not ordinary people anyway, the rulers who pull the strings behind the scenes on this planet will know about this). Or (2) he comes from a planet that is immediately adjacent to our planet. That area or that planet can't be perceived by our senses or by the instruments that we have to observe space.
I can sense in the alien that he knows our planet as we know it, he has the knowledge of the different continents and the seas. He also knows that there is a dividing wall and that there is a world out there that humans can't see and where he lives. That world exists in a slightly different frequency from the frequency in which our world exists, and that's why we can't perceive this world. In order to go from one frequency to the other, they have to travel through a portal.
(1) Over the last few years, there have been theories about the flat earth. There are quite a few people, part of which are scientists, who claim that the earth isn't round, but flat. A drawing that they often show represents a flat, round surface that contains the continents and the seas, and that is surrounded by a ring of ice, which is Antartica. Outside the ice ring of Antartica there is a second part with continents and seas which is also surrounded by an ice ring.
The inner ring are the continents as we know them. Their form is different from what we have learnt about earth, but the UN uses the same map. On the picture below you can see two representations of the earth. The first is a representation of the flat earth and the second is the logo of the UN and it represents the surface of the earth.
I am not saying that this is exactly how things would be if the alien was living on a part of the earth that we don't know of (a part beyond Antartica). I am just giving an example of the possibility that there are parts of the earth that are not known of.
(2) A planet that is immediately adjacent to our planet, and which exists in another frequency, and which we can't see.
Their world
There is much cruelty, harshness, mercilessness. It's a world where the law of the jungle rules and there is no freedom.
There are tall buildings (blocks of flats, or rather blocks of compartments). There is nature, there is matter, there is water, there is a sea, there is an atmosphere. It's a world that looks very much like our world.
Society is organized very strictly (with rules that mustn't be broken). There is a lot of cruelty. Someone who doesn't comply or who fails is killed immediately and without mercy (by way of some kind of object), or is locked in a room without water or food in order to slowly die. They are all hard for one another, they are merciless. There is no single consideration for others (no understanding, no respect, no indulgence). They can't make any single mistake or they will be killed or punished severely. Whether they are punished or killed depends on the degree of harshness of the one who passes the judgement.
Everyone is harsh for one another. Everyone can be punished or killed by a superior and everyone can punish or kill a subordinate. To punish means to have someone suffer severe deprivations or have someone do back-breaking work.
They all have a very tiny space to live in in the blocks of flats. It's a space of two metres by one and two metres high. They also get food there once a day. They are all closed off from one another. They all live in their own small compartment. When they are not in their compartment to rest and to eat,  they have to work. Their life consists of working, alternated with periods in which they are in their compartment. There is nothing else. It's possible that it's always light and that there is no day and night, only a few hours of twilight.
When they work together, there is very little communication among them. Everyone is wary of the others, in order not to be snared by another one in one way or another, and everyone is bent on snaring others (accusing somebody of something). Everyone keeps an eye on everyone else in the hope of getting them on something and then being able to hurt them. Everyone is everyone's enemy.
There are many of them on their planet, millions, perhaps billions. They live in working communities.  All the members of the planet are divided in working communities of a few thousand to ten thousands of members. There is one supervisor/chief commander per community and for the rest the members keep an eye on each other. Everyone has the right to punish or kill someone else who doesn't comply and everyone can be punished or killed by another from their group who thinks that someone falls short in some or other way. Some working communities are much harder than others. In some working communities they treat each other even more harshly than in others.
The community that our alien lives in is a little bit better than most others. He has been lucky. In his community there is some understanding for others and some indulgence. They won't immediately get the harshest punishments and they will get a second chance. But once they  have been put on the carpet, the second time a mistake has been made, there won't be any more mercy.
The community supervisor is supervised by a coordinating supervisor of several communities. Etcetera. Up to the top. Everyone knows the alien at the top and everyone is terrified of him. He has control over their entire world, he pulls all the strings. His subordinates are in fear and trembling of him and they themselves are ruthless to their subordinates. And within the working groups, the members keep an eye on one another.
They don't procreate as we do. They are created through genetic manipulation. They often don't live for very long, five to ten years, because of the death penalties. They are expendable. Some of them are a hundred years old and some even thousands of years. The ones who are thousands of years old, are the ones at the top. No one gets very old in the labour camps.
They only know fear, sorrow and hostility towards one another in their world. There are different kinds of labour in their world, just like in ours.
They eat plants, animals from their world and sometimes from our planet, and humans. Our planet is their hunting territory, and they only come to our planet to capture people, and a few animals. When they come to our planet, they come through the portal with a fleet of 100 to 200 ships. That's once a month or once in two months (I think). The ships then spread over our planet. There are three to five aliens per ship. They have underground bases in several places on our planet where there staff works. In every basis a few hundred of people have usually already been captured and have been imprisoned underground. And a few animals. Every ship can transport about fifty people. The ships have to reach their quota before they can return. The people who have already been captured by the members of the bases on earth are divided over the ships and they have to catch the rest themselves. They can pull up people in their spaceships from the ground. Sometimes they have to land in order to bring a person in.
The video below shows a cow that is pulled up by a spaceship and that disappears in it. This is to illustrate how people can be brought in their spaceships.
The video below shows that many people have been disappearing from a park in the US.
They can get people from everywhere, also from closed rooms. They can change the frequency of matter in some or other way as a result of which someone can be taken through a wall. I once saw a video in which they told that a young man who was sitting on a bus, along with many other people, had suddenly disappeared from the bus. He had suddenly disappeared from his seat while the bus was driving and he has never been seen again.
They have some or other technique with which they can make themselves invisible to us.
The people taken prisoner are kept alive until they have to serve as food and then they are killed with a device. This may be a laser device or a device that sends an electrical surge through the body, or something similar. A small part of the people is used as slaves until they are used up and then they are killed to be eaten.
He speaks English, he probably knows several languages that are spoken on earth. All the knowledge he has and the languages he knows may possibly come from something that is implanted in his head and which contains this knowledge.