Below there is picture from a moment in the video. The alien has come out of the ship and is standing on the ground. I have used this moment to sense the inner world of the alien.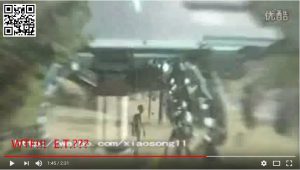 The alien knows the environment, he has been there before. He comes looking for plants, several kinds. He knows what plants he needs. Certain substances will be extracted from these plants. These extractions will be used to make medicines. The alien species lives on this planet, under lakes and in mountain chains. They have not spread across our planet, but they live concentrated in one place. Since this video was made in China, this place will be in China. There are a few hundred thousands of them.
They have contact with their mother culture somewhere in space and they can travel through space. The mother culture is scattered across the universe. Their species lives on many planets and in many galaxies. They are a peace-loving species and they have spread across the universe for the purpose of research and the development of their species. They are not warlike, they don't want to conquer or destroy other species. They leave the species on the planets where they reside in peace. They don't get involved with the species on a planet. They don't do them any harm, but they won't interfere to help them either. They have been on our planet for millions of years. They haven't influenced anything on our planet.
This alien is a loving person. Everyone is equal in their culture. Everyone gets a task in accordance with their abilities. They live a little longer than humans (I guess). They feed with the plants on the surface of the earth and with those they grow in their territories. I think that there are four or five sexes, and they grow from small to big. When they grow up, they have to learn things, until they are adults and can take up their role in society, until they die. Their reproduction system is more complex than that of humans since four or five sexes are required to produce a new member of their community. They communicate through spoken words, through language. Within their culture, they live in small groups of five to ten members. Sometimes the members change groups.
They can hide their presence from humans and from other alien species by projecting an image with the help of technology capable of hiding their presence. For example, they can hide an entrance in a mountainside by creating an image that is equal to the mountain. Or they can make themselves invisible when traveling through the sky by creating an image of a cloudy sky or a blue sky. They live in our dimension, but they are aware of the existence of other dimensions and portals between dimensions, and when they travel through space, they travel through dimensions.
This species is not particularly very intelligent, their intelligence is comparable to that of humans (I think). There are intelligent and less intelligent members within their species, just like with humans.
A few more pictures.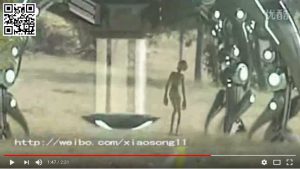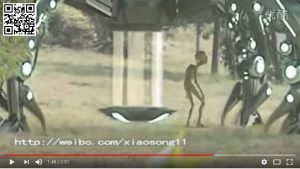 What I can feel about the alien in the picture below: he heard something, he thinks it's possibly an animal. If necessary, he is capable of hiding the craft and himself immediately by creating an image of nature hiding both his craft and himself. I can't sense how this is done, because he doesn't appear to carry any technology. The image may possibly be evoked automatically when there is some motion in the environment.