Description of the alien based on psychic perception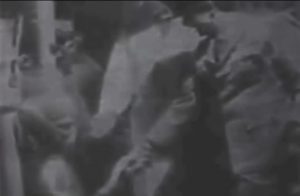 The extraterrestrial (whom I will call X for convenience's sake) has a negative attitude towards the other person. He is very treacherous. He has no good intentions towards the other person. He'll delude this person, make promises, but he has no intentions of keeping these promises. This person is an object to be used, something to be used to achieve his goal. When arrangements have been made, he won't keep his promises. Words to describe X are: cunning, treacherous, lying, deceitful.
His species makes agreements with the humans, but they don't intend to perform their part of the agreements from the start. That's their way of doing things, they use others to achieve their goal. That's also how they treat others within their own species. Making an agreement to the advantage of both parties, is alien to them, this attitude to life is unknown to them. The stronger one is the winner. If the other one is so stupid as to believe them, they will make full use of that.
The person A whom he is meeting in the picture is naïve and not skeptical at all. A finds it very special to meet X and he has a positive feeling towards X and A doesn't have any suspicion at all regarding what is going on in X's mind. A assumes that X has good intentions, because that's his own attitude to life, and therefore also his attitude to X.
In their own community, they are competitive and distrustful towards each other. In their culture, the law of the jungle rules: the strongest one subjects the others. The strongest one takes charge and the others are his workers, they have to work for him, or to perform tasks for him. But the ones who are subjected are always looking for an opportunity to take the control back, and to set themselves up as the leader. The oppressed are always on the lurk, therefore the oppressor always has to be alert to a possible take-over by a subordinate, who would then take his place, which would then make him a subordinate.
They don't kill each other, but there is a constant struggle for power. It's a culture of ruling or being ruled over. They don't know feelings of friendship or equality. They don't know this in their dealings with each other, and certainly not in their dealings with humans. So, X is treacherous and cunning towards humans, because he doesn't know any other way.
They need each other in order to survive, they have to survive as a group, and that's why they interact with each other, but there is no warmth for each other, there is no feeling of connection with each other. Perhaps not all the beings of his species are like this, but that's what I sense in this individual.
The one who gets to the top, rules over the others. The subordinates are treated cold-heartedly. They are simply workers. They get food and shelter, and they can interrupt their work to rest, but for the rest they have to work. There is no free time or recreation. This also goes for the leaders. They spend their time performing tasks, working, and when there happens to be nothing to do, then they rest. There is nothing else.
They want to mine materials here and they want to be able to work undisturbedly. These materials are not ore, I think, it's something else. They want to be able to work and live underground, and to transport the mined substances to planets nearby, where they live. They can travel through portals and through other dimensions to reach their destination. Some of the planets where they live may possibly be in another dimension, which would mean that these planets are invisible to man.
They want to make agreements with the humans in order to be able to mine here. They want to be able to mine without being bothered. In exchange for that, they share the secrets of their technology, so that the humans can make their own applications. But they won't keep to the locations that have been allocated to them in the agreement, and they won't keep from harming people or animals. If it suits them, they will abduct the inhabitants of this planet, human or animal, and they will subject them to their physical examinations, because they are curious about the functioning of our bodies. In doing so, they will mutilate their victims, without mercy, just like they would examine and damage an object, without any feeling or compassion.
So, they won't comply with the agreement, but they will dig anywhere they please, and they will make underground residences wherever they please. Once they have a foothold on this planet and are well settled, the humans can't harm them anyway in case they find out that they don't adhere to the agreement.
They have weapons that can kill the humans that attack them, and they can sabotage the technological applications that they have given to the humans, from a distance. So, humans are defenseless against them in conflicts. But they prefer to do things in secret as much as possible, in order to prevent conflicts.
If the humans planned a meeting in order to point out their mistakes, then they would promise to adapt, but then they would fail to do this once again. They simply always do whatever they want to do and an agreement doesn't have any value to them at all, except from being a tactic to mislead the others.
If they simply mined on this planet, without any agreement, they know that sooner or later  they would be discovered. And this would result in problems, and therefore they prefer to make agreements, which they don't comply with anyway.
At the moment of the meeting, they haven't yet settled on this planet, or only to a small extent. In the past, they took the materials they needed from their own planet and their neighbouring  planets, and now they want to mine here. Not indefinitely, but it may still be for a few hundred years'. As soon as they have a sufficient amount of the raw materials that they are looking for, or possibly, if the supplies got depleted, then they would leave. Once they have left a planet, they won't come back anymore.
They can make themselves and their materials invisible to humans. They do this either by projecting a fake image on top of themselves, as a result of which the humans see something different than what's actually there. Or they can shift to a different frequency, as a result of which they can no longer be perceived in the previous frequency, which is the frequency in which humans can perceive things. They can make their residence invisible to humans. In spite of this, they might still be discovered by humans, and therefore they make agreements with humans.
They live in subterranean spaces that they build, a few kilometers underground. They are connected to the other members of their species in a different dimension through a portal above ground in the vicinity of  their residence. Another dimension is a dimension that overlaps with our world, so a world that takes in the same space. These dimensions are separated by a dividing wall and they can be accessed by a portal in the dividing wall. For a description of other dimensions have a look at https://animalsinnerworld.wordpress.com/a-being-from-another-dimension/
And at https://animalsinnerworld.wordpress.com/a-portal-between-dimensions-opens/
There are a few thousand members of their community who will work and live underground on our planet for some time.
I think that the X species can communicate with humans through apparatus. That's all I can sense about that.
They get between 100 and 200 years old. There is a process of decay at old age, they shrivel up, they completely dry out and then they die.
There are no two sexes, like with humans. They reproduce by way of very small eggs that grow in their chest cavity. These eggs are formed in the body of only a small part of their kind. When the eggs are fully-grown, then they are secreted. It makes me think of frogspawn. The eggs have to be kept in a moist, warm space. Little creatures then come out of a small percentage of the eggs, and they have to be fed by the adults. They grow fast. As soon as the young are big enough, they are taught things they will need for a certain task. When they have to perform another task later on, they will be taught this task when the time comes. They don't receive a general training, they only learn what they need in order to perform a certain task. They are deployed as workers as soon as possible. They have to perform tasks from a very young age onwards. There is not much love for the young. They are prepared to a hard life of working and discipline.
They don't feed by taking in food through the mouth, but by absorbing nutrients through the surface of their body. They breed some kind of worm that they kill and the substances of which they use, which can be turned into a vapour or a gas, which can then be absorbed into their body. They also take substances from humans and animals that can be turned into a gas, which can be absorbed into the body. In times of need, they can also use members of their own species for this purpose. But what they can take from other species, like on this planet, humans and animals, is of better use to them. These substances are of a higher nutritional value than the substances acquired by using members of their own kind. They mainly use animals, in order not to get into trouble with humans. They will sporadically use humans for this, when there is no danger of being detected. The humans and the animals that are used for this purpose, don't survive the procedure. When one of their own kind is used for this, they don't survive either. They don't kill the humans or animals after having mutilated them, in order to release them from their pain, they simply leave them to their own devices. They can also make a synthetic version of the nutrients they need, but eventually they will once again need an original animal or (sometimes) vegetable source.