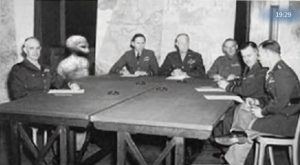 Description of the alien based on psychic perception
This picture seems to be have been manipulated, the corner of the table where the alien is sitting, is rounded off, which makes me think that the scene as presented in the photograph, is not the original one. It makes me suspect that this one picture has been made up of two individual pictures. I think that this meeting was held without the alien being present and that he was later added to the picture.
Nevertheless, I believe that the alien in the picture is an actual alien, he doesn't feel like a disguised human being, he feels malicious. And all the military men feel tense and anxious, and they feel that they have their backs to the wall. A situation is being discussed in which conditions have been stipulated by a third party, who I believe to be the aliens. The military men don't see any way out, the other party has the upper hand. The only thing they can do is to give in, to yield, they can't do anything.
The conversation is, among other things, about an alien species that abducts people whom  they consequently abuse and murder. And the conversation is furthermore about underground locations that the aliens can inhabit. The aliens have been allotted a location where they can build underground residences. But they may possibly take up their residence in other places as well. The military men are unsure about that. When military aircraft are chasing an alien ship, then the ship suddenly disappears. And also shooting at the ship doesn't have any effect at all.
The aliens want to be able to abduct people at will and do with them as they please. And they don't want any supervision regarding their locations. When the aliens don't have their way, they threaten to destroy military equipment. If the military infrastructure is destroyed, then the humans will be totally defenseless.
The alien
I think that I have to look at the alien unconnected to the meeting. I can sense his personality and the situation at the moment his picture was taken. The alien imposes his will on others. He has control over others. He imposes his demands on others, things will be like this, and that's final. He is rigorous. His species want to have their way in every respect. They will conclude a so-called agreement with others (in this case humans), but these agreements are a trap. They have no intention of adhering to it from the start. The other party will be deceived, but once the aliens get a foothold, the other party is trapped, they can't do anything to change the situation. Then they threaten the other party when they don't go along with it.
The alien is merciless. It only revolves around them, around what they want, they don't want to have any consideration for others, they only have contempt for others. Others only exist to be used by them, to give in to them, they do what they want to others.
They don't want to give in, never ever, the others always have to make way for them. They love to deceive others, to fool others, that's a game to them. And when the other party has been deceived, they laugh at them. It revives them. Also abusing or torturing people, or sometimes one of their own kind, revives them. It's an occupation that they thoroughly enjoy.
They came to this planet through a portal, not so long ago (at the moment the picture was taken, which will be a long time ago by now). They contacted leaders of government and they told them they came here to help humankind and to teach them things. But in truth, they want to settle on this planet, they want to eliminate the native inhabitants and they want to keep a limited number of people and animals to experiment on. They want to control the planet, they want to colonize the planet. For the moment, there are only a few hundred members of their species here. They are a reconnaissance group who has to lay the foundation for the rest who will come later on. There are many wars going on in space. There are many species fighting for the same territories. The reason why his species is looking to expand their territory, is because the number of members of his species is growing and they need more living space. They want to reform the planet to suit their needs. (Personal remark: this may be the reason why 'terraforming' is going on: changing the planet by way of chemtrails, GMO food, the poisoning of our planet (with pesticides, etc.), Wi-Fi (which is a carcinogenic radiation), the extermination of the bees, etc.).
The alien can take on whatever form of body, in a few seconds time. Every type of body may possibly be an image that he projects in the other's brain, so that that type of body is what they perceive with their eyes. His real form is present in a different frequency, which is invisible and intangible to us. I think that his actual form is a collection of geometrical forms. He sometimes has the one geometrical form, sometimes the other. This form is invisible to us, because it is in another frequency. Only the anthropoid form that the alien projects into our brain, can be perceived by us.
The aliens communicate with other species by way of translation equipment. They can create illusions in other's minds. They can implant images in the other's head, which will be experienced as reality by the other party. This way, they can mislead others.
The alien can control people, have them in his power. He can create an invisible field around them, as a result of which they are completely in his power. These people can no longer move freely, and they can't do anything anymore, apart from carrying out his orders. The alien controls the body and the mind of this person.
The alien can do this with people around him, and he can also do this with people who are further away from him. The alien can create this field with the power of his mind and they also have equipment to get whole populations under this form of mind control.
They settle in underground locations and they also mingle with the humans, disguised as a human. So, they also live above ground in houses, just like humans. They infiltrate in important institutions and in government agencies, in order to gain control over these institutions and government agencies.
They are allocated one location by the humans, but apart from that, they occupy other locations unbeknownst to the humans. They aim to settle over the entire planet, in underground locations, there are a few hundreds of their species in every location. They aim to continue to spread.
When a human resists, then they place a field over this person and then they have total control over this person.
Their species live in a solar system not too far from ours, but possibly in a different dimension. A dimension is a world that occupies the same space as another space, but because these dimensions exist in different frequencies, the various worlds overlap. A description of a being from another dimension entering our world, can be read on https://soulliberation.eu/about/poltergeist-in-the-kitchen/a-being-from-another-dimension/.
A description of a space ship entering our dimension through a portal is to be found on https://soulliberation.eu/about/poltergeist-in-the-kitchen/a-portal-between-dimensions-opening/.
Everyone in their own community is equal. Everyone has their own task, everyone has rights. There are billions of their kind on their planet. They live for a few thousands of years (I think), and then their body (which is a geometrical form) dies. They communicate in a telepathic way with each other. They have colonized several other planets, not too far from their home planet. They infiltrate on the planet, they create a different world by way of technology (suddenly there is technology on the planet that wasn't there before, like what happened on our planet). Then they use this technology to start 'terraforming': creating a living environment that suits them better. An environment that suits them is a barren, dead planet. Once the planet is dead, their species moves from their planet to live on this planet en masse. Sometimes there is a vehement resistance from the other species on a planet, and then they are forced to give up and leave and look for another planet.
Within their community, they live in a way similar to our way of living. There are equal rights, there is health care, there is a justice system for offenders, there is education, etc. But there is also hatred and jealousy and competition (like on our planet). They are merciless towards the species that are conquered, they only see them as a barrier that's in their way which has to be destroyed. They are deceitful, they are fraudulent, and they trick the inhabitants of other planets with their sweet talk.