Most photos of aliens on the internet are fake, but I believe that the species in the pictures below is an actual alien species. But the pictures of the meeting of Kennedy and Hitler with an alien are faked.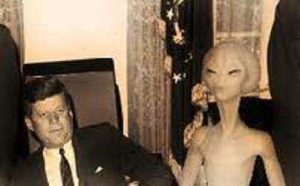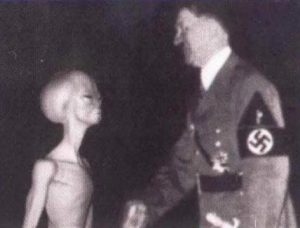 Description of two aliens of the same species based on psychic perception.
The alien species is treacherous and deceitful. There are stories on the internet that the American president Eisenhower had closed a deal with aliens in 1954. If this is true at all, then it may possibly have been with this species. I can sense in this alien that they have indeed made a deal with governments on our planet. They came up with a concocted story that their species was becoming extinct and that they would need the genes of beings on this planet (humans, animals, plants) in order to survive. According to the internet story they would have got the permission to abduct a few people, but they were not allowed to harm them, and they had to bring the people back unharmed, and erase their memory, and pass on the names of the people they abducted. In exchange the Americans would be given technological knowledge. Later on the Americans noticed that the aliens didn't keep to their word and that they abducted and abused (tortured) a great many people.
I sense in the alien in the photos that their species is not becoming extinct, but that they are looking for something on this planet, deep underground, possibly some or other mineral. If they have made an agreement at all with one or more governments on earth, then this was to be able to do whatever they wanted to do on this planet without restraint, under the pretense of needing genes for the survival of their species.
They have underground bases on our planet, and they have spaceships in the vicinity of the earth. They can travel in space through portals (wormholes) to where they live. They can cover huge distances this way. They live a few galaxies away.
First alien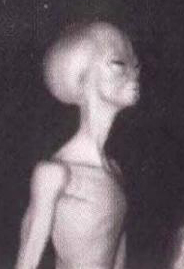 In a picture, I can sense the feelings, the personality and the situation as it was at the moment the picture was taken.
The alien is communicating with someone, a human I think, and he has negative feelings, he is frustrated about something. He is being reprimanded. He has to do something different from how he has done it. He has to accept conditions he isn't happy with.
They communicate telepathically with each other, by means of images that they transmit and that the other can pick up. And also by means of sounds. I don't think they use spoken language to communicate with each other. They can put images in the other's mind that seem like reality. They can have a scenario play out in the other person's head, and the other person gets to see a series of images in his head. These images can be the truth or they can also be a lie. They may possibly also be able to communicate with humans this way. They can project images in a human's head and then pick up the ideas or feelings of this human. Humans don't produce images as a response, but they do have ideas and feelings. And I think that at the moment the picture was taken, something was explained to him, also with the use of sign language.
He doesn't like the human species telling him what is and what isn't allowed. He wants to be able to do whatever he wants, he doesn't want to adapt to anyone, he doesn't want to give in to anyone (if they are human). He isn't used to having to receive instructions from anyone (if they are human), he always does as he pleases.
His species has made agreements with the humans. But for them an agreement doesn't mean anything. It is not something they adhere to. An agreement is only made to achieve their goals, and the other party is presented a false picture.
When the other party discovers that they have been cheated, they will then decide what to do when the time comes. They only think one step ahead, they don't foresee an entire scenario of what might happen because of an action or a false promise. The next step will be yet another lie, there will be yet another deception. They can't imagine that they would do something that benefits others, or that would provide equal rights or opportunities for others besides themselves. They can only think in terms of what suits them, what is to their advantage, and in terms of deception. When the situation escalates and is no longer tenable, or when they are in danger because of their deceitful activities, then they flee. Then they will look for another group on the same planet or a different species somewhere in space that they can manipulate and deceive, and use for food. They leave a trail of destruction behind in the places where they have been.
They abduct humans and animals. They extract bodily substances from the humans and the animals abducted, which they need for food. At that moment, the humans and the animals are in a condition of partial sedation (perhaps because of something that they administered to them so that they wouldn't resist). The procedure of extracting substances can be somewhat painful to very painful.
They insert an implant in the humans and the animals that they abduct, so that they can easily find them again the next time they want to abduct them to extract substances from their bodies.
They also feed with something they grow themselves, some kind of plant I think, or perhaps some kind of nutrition that we humans don't know.
They also do tests on humans and animals, which will be tantamount to torture. I can't pick up any more about this. They are cruel. They don't have any sympathy for their victims. They can erase memories by way of radiation that affects the brain.
They also have to endure pain within their own species. They are also merciless towards the pain of others of their own species. They don't have painkillers, they only have a light sedative. They are raised with the philosophy that they have to endure pain. They have to bear all discomforts, they can't complain, and they have to continue working. There is no compassion. When someone is no longer able to keep going, his life is ended.
They live underground. They have people captured in underground cages, for food and experiments. There are some hundreds of cages and two or three humans per cage (I think).
These people are captured for a long time, until they die. It can take many years before they die. I can't sense why they keep some people in cages and implant something in others who they release after they have used them.
They are looking for something deep underground and in mountain chains. A large work team of their species is engaged in the exploitation, a few thousands up to tens of thousands workers per location, millions in total. The members of the work teams are considered as worker ants, and they are treated without mercy. They have to work, they get food, they get a little rest, and then they have to work again. Until they drop. There are no rest days. There are only working days. When someone can no longer work, his life is terminated and he is replaced.
The alien in the picture is also merely a worker. Not in the underground exploitation, but he has other tasks. He is perhaps a pilot. But he is a worker ant just like the rest.
They are created by way of cloning techniques. There are no babies, they are adults from the start. They don't live for very long, for 10 to 15 years (I think). They are under the control of another species that creates them. This species treats them mercilessly. They are a very tall species, much taller than themselves. This other species is three to five meters tall, they are black, with a slight build, like the praying mantis, standing. I can't sense how tall this alien species is.
They might look more or less like the picture below, but with a black skin.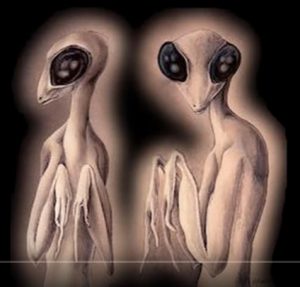 The things I can sense about their praying mantis masters.
Their masters demand absolute obedience, and this alien complies with it. Not all the aliens of his species have personal contact with the masters, but he does. When he gets a message or an order from his masters, then he passes this on to the others. This doesn't mean that he has a higher social rank than the others, everyone has the same value to their masters, everyone is equally inferior. When they want to trample him down (literally), then that's what they do. I don't sense any fear of them, only a slight feeling of contempt for his masters, and the fact that he does the task he has been assigned to do, without having any emotions about this.
The reality of not living very long, is not a problem to him, when the time of death has come, then this is accepted without feelings. His only exists to serve his masters, that's a matter of course. But with the humans, he wants to have his way. There is a feeling of equality towards his own kind, they are in the same boat. He doesn't have to have his way with his own kind, they do their best to work together, but they don't care about each other.
There are a few hundred thousands of the praying mantis on this planet. They travel through space to their home planet. Some of them are leaving and others are arriving. Some of them live underground, most of them reside in spaceships in the vicinity of earth. He doesn't know much about them, except that they are strict and merciless. The masters are the ones who do most of the traveling, and sometimes some of his own species travel along with them. He is not one of those.
Second alien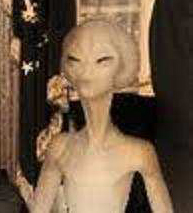 I think this picture was taken during an interaction with humans. The alien is an egoistic creature. He doesn't give in to anyone (when they are human), he doesn't bow for anyone. He is full of himself, he is self-conceited, he looks down on humans. He is in a position in which he can make his demands. They tremble before him. In the beginning, they brought up their grievances in anger, they really believed that they could stipulate their conditions, but he quickly put them in their place, he quickly showed them who is the boss. His message is that they catch as many people as they like and that they do whatever they want with these people, and that they (the humans who are with him) can't do anything about that. And that he is lenient towards them, that he doesn't consider them as his source of food because he needs them for the cooperation, but that he could easily find others to work with. And if they continue to drivel about his species not observing the agreement, they will make him very angry, and they will end up on the menu.
They never intended to comply with the agreement in the first place, the humans shouldn't have been as dumb as an ox.
They communicate through translation technology. He can sense the feelings and thoughts of the humans, but they don't know that. He refrains from communicating through images.
He makes the demands regarding the underground facilities. The humans have to give in to everything, they don't yield anything to the humans. Demands are made that don't correspond with the first agreements at all. The humans have to go along, or they will end up on the menu.
He is in a position of power and he knows it. They have abducted, tortured and murdered so many people that the humans now tremble with fear. There has been an uprising by the humans, they thought they could chase them away, but they found out in time that an uprising had been planned, and they were able to crush it. (information about this is to be found on the internet, in the reports by Bill Schneider https://www.disclose.tv/phil-schneider-knew-about-greys-aliens-in-underground-bases-and-was-murdered-311896
I think that this alien is actually a praying mantis, who takes on the form of another species for this occasion. This is called shapeshifting. They can switch from one form to the other by switching to a different type of vibration. They can switch very quickly, it takes a few seconds.
They don't have their eye on taking control of our planet. They are present on many planets where they exploit natural resources. However, they are eager to have a position of power in the universe, and they sometimes wage wars with other species in the universe. Or they make agreements with which they don't comply. When they make an agreement with another species, they never intend to comply with it, they always do this to frame the other party.
They can make their spaceships invisible. Sometimes a fleet of hundreds of spaceships is present in the vicinity of a planet without being noticed.
They have been on our planet for millions of years. They have been compelled to conclude treaties with the humans because their presence had been discovered. They will have promised technology to the humans.
There are a few hundred thousands of praying mantis here, and there are millions of the subservient species, of the workers (whose form he takes on at this moment).
The praying mantis species gets very old, thousands of years. They are created by means of genetic manipulation, just like the other species. They are adults from the start. There is a hierarchy, in the sense that there are members who give orders to others, and there is one chief leader, but the members are still more or less equal. The one is a little higher in the social order than the other, but it's not a structure of tyrannical leaders suppressing the others. Except for their worker species of course, which are suppressed by them. This alien is not at the top of the social ladder within his species, there are stairs above him.
They don't respect other species besides their own, they do as they please with other species (such as humans). They can only think in terms of what is important to themselves, of what they want themselves. They are driven purely by self-interest.
They have tasks to fulfill, and there are also moments of relaxation.
There is no love for one another. They are distrustful and somewhat hostile towards one another. They fear that the others will get more rights, or will get higher up. They are not allowed to harm each other, they are not allowed to destroy one another, and disputes are settled by way of jurisdiction by a third party. They have to work together and survive together, so they follow a work ethics of respect towards each other. Within their own group, they keep to the agreements that have been made.