Long distance treatment and self-help techniques for self-improvement and liberation of the soul.
Hi, my name is Charlotte. I provide long distance healing and personal consultations. Please read my book before you contact me: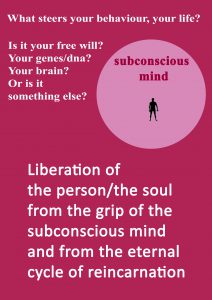 (If this link does not open properly, this is caused by a firewall or virusprotection software on your computer, if you cannot solve the problem, please send me an email and I will send you a copy of this book.)
Summary of the Soul Liberation theory and treatment
Services
Free self-help techniques, read about the techniques on the website and start applying them.
Free self-help techniques in combination with a few hours of distance treatment a month (20 euros per hour). In order for me to be able to start the treatment, please send me a few pictures of yourself, so that I can get to know you.
Personal consultations with Skype for guidance with the self-help techniques (50 euros/hour).
A personal consultation with me before you decide to start distance treatment, distance treatment can also start without a personal consultation prior to the treatment. In this case, I will need some pictures of you.
Long distance treatment for self-improvement and liberation from the subconscious mind. The technique that is used is called SLT (Soul Liberation Technique) and this is a distance healing technique that I have developed. With SLT we aim to profoundly change a person and his life for the better, we want to improve hundreds of issues. We want to improve personality, increase abilities and talents and cause positive things to happen in life; we want to create a loving, able and successful person. The treatment starts with 100 hours of treatment (price: 2000 euros) spread over 5 weeks and continues with a minimum of 20 hours a month afterwards (price: 400 euros). The aim of the treatment is, among other things, to acquire the ability to treat yourself with SLT. It usually takes a long time to acquire this ability (however, there are exceptions), but once you can do it, you can treat yourself and your family for free for the rest of your life, for thousands of different issues. A questionnaire has to be filled out before the treatment can start.
Several people are treated simultaneously with SLT. 25% of the people react much more slowly to the treatment than the other 75% (this is the same for other kinds of therapies). Because several people can be treated simultaneously at a distance, the price per hour can be kept low. For the people who react well, the price per hour is 20 euros, for the people who react slowly (for these people results come much more slowly) the price per hour is 4 euros.
Long distance treatment for developing psychic abilities, same conditions as above.
Personal consultations with Skype for guidance with exercises connected to the training for becoming a SLT healer.
Personal consultations with Skype for the description of your subconscious patterns (see book for an explanation about patterns) and for a psychic reading of another person (the inner world of another person, for example a child, a person you are in love with, an animal).