There are five self-help techniques for removing negative subconscious material or 'blockages' on this website. Subconscious blockages are the source of anxiety, lack of empathic abilities, low self-confidence, obsession, addiction, bad relationships, concentration problems, prejudices, bigotry, sleeping problems, selfishness, clumsiness, being prone to bad luck, being prone to disease, etc. Removing this negative subconscious material gives rise to all kinds of benefits, for example, your personality improves (for example, you become more broad-minded), psychological problems diminish, your health improves, your ability and success in life increase, …
Asking for energy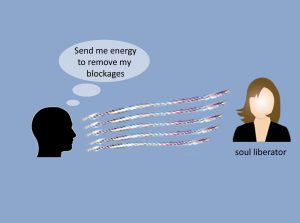 This is a psychic method. I am a psychic and a distance healer. With this technique, energies that are present in my subconscious mind are used to remove blockages in your own subconscious mind. This method can also be applied for the benefit of another person, for example your child, or for an animal.
Sound and music
Certain sounds and certain music have the ability to remove subconscious blockages (by having them peeled off little by little). The only requisite is to play these sounds and music in the background as much as possible.
Discharging emotions
Make a sentence that describes a certain emotion and repeat this sentence until there is a change. Then make another sentence.
Two people facing each other
This technique involves two people facing each other and looking at each other for a while (for example for half an hour). However strange this may sound, this method helps to remove subconscious blockages. This can also be done on one's own whilst looking in the mirror.
Regression
This technique is about recalling things from the past in order to remove mental pain linked to past negative experiences that still have an influence on the present. This technique is not always easy to perform, not everyone will be able to apply this technique on their own. However, a number of people will find this technique to be useful.
Evaluation of results
It is motivational when changes are perceived as a result of the application of one or more of these techniques. However, it is not always easy to perceive all the changes that have occurred. It may help to write things down. You can either keep a diary or fill out the questionnaire or do both. If you are serious about applying some or all of these self-help techniques, I strongly advise you to at least keep a diary.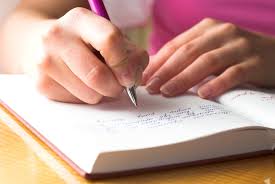 In doing so, write down what happens in your life, negative and positive, and how this makes you feel. Write down your behaviour, your thoughts and feelings. Write about your problems, your fears, your obsessions, your convictions, your relationships, your work, your health, about how you treat others and how you are treated by others. Write down the things you do and the things you don't do, the things you should do that you don't do, and the things you shouldn't do that you do, the things you are good at and the things you are not good at, what you think of others, your preoccupations, the things you believe you do wrong, or the things you do well or the things you should do better. Write down everything you can think of concerning your personality and life. If you notice any changes, it's important to write them down immediately.